Spai: here it comes the Help4Tech service; maintenance becoming smart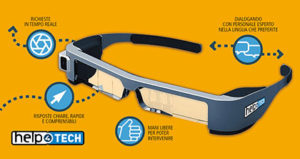 Kiev, Ukraine: an automatic machine is not working as it should. Ivan, the company technician, try to fix the thing. Ivan is one of the many that does not read the use and maintenance manual, or he reads it but he does not understand it and he therefore attempt an approach based on experience or on intuition. It still does not work. Ivan gives up and calls the machine manufacturer. He tries to explain the problem to the operator using his approximate english. At the end of the conversation they believe to have understand each other; a technician leave, destination Italy, with a spare part but when he reaches his destination, he learns that it is the wrong one or that other things needed substitution.
At the same time, in Saint Petersburg, Russian Federation, a similar machine has an analogous problem. Anton, the technician, wears his smartglass and audio/video connects with Mario by means of the glasses, which allow him to have free hands to intervene. Mario, from Italy, sees the same things Anton sees and helps him, leading him by means of graphical indications on the viewer of the russian technician.
Assisted maintenance by means of smart glasses
This two cases show us the advantage of relying on competence of a skilled technician, who personally helps you in real time in the machine problem solution, H24, using connection and interaction modalities that exploit new technologies and that cost infinitely less than a traditional intervention, ensuring maximum effectiveness. This is possible thanks to Help4Tech: the innovative service for the assisted maintenance developed by Spai,
company specialized in technical information for industry, having a specific twenty-years experience in packaging, pharmaceutical and technical decumentation sectors.
Automatic machines manufacturers can rely on advantages of Help4Tech in outsourcing, offering on this manner to their customers a service of value, that can minimizes discomforts caused by long stops on production and by the costs for business trips of assistance technicians.
Key elements of Help4Tech are two:
The comfortable visual device, wearable as glasses, that use the data connection,
The knowing of the machine for which assistence is required.
Help4Tech technicians will lead, thanks to the sharing of scene by means of the smartglasses, the end user maintenance technician, to the problem solution. The manufacturer will be involved only in real case of necessity, but he can rely on a careful triage that will allow him a precise and decisive guess, thus avoiding problems originated by lack of communication, as for instance needless trips or the sending of wrong spare parts.